Send Inquiry
SF6 Gas Handling Equipment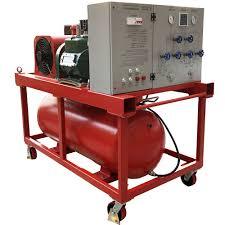 SF6 Gas Handling Equipment
Product Code : RF-151
Price And Quantity
Minimum Order Quantity
1 Unit
Price
100000-3000000 INR
RF-151 is suitable for low and medium voltage switch (10~40.5 kv) aeration cabinet; For high voltage,it is suitable for 72.5kv,110kv,220 kv ,330kv live tank circuit-breaker, tank circuit-breaker and SF6 gas insulated switchgear(GIS);500kv live tank circuit-breaker and tank circuit-breaker.
Sulfur hexafluoride gas recovery, liquefaction, storage.
SF6 gas recovery down to < 0.1 mbar.
Built-in liquid filling machine, filling 70L cylinders only takes 5min.
Recharging the stored sulfur hexafluoride gas into the switchgear.
Filtered and dried recovered sulfur hexafluoride gas.
Vacuum the device itself.
Equipped with a digital vacuum gauge or vacuum sensor to accurately display the vacuum.
With negative pressure recovery to improve recovery efficiency.
Reserve raw gas sampling bottle interface.
Vacuum pump outlet equipped with the environmentally friendly discharge device.
The vacuum pump has an anti-return valve to prevent oil return.